Garmin
A full-featured swim training watch for use in the pool.
Swimming watches and heart rate monitors
010-01004-00
Garmin Swim
Nº 1 of sales in Swimming watches and heart rate monitors
Top sellers
€149.00
€119.99
Delivery timeDelivery 1 working day
More than 10 available
4.5 of 512 reviews
- 19%
Characteristics Garmin Swim
Stop counting laps. Let Garmin do the maths with Garmin Swim. It's the swimming watch designed for pool¹ use that tracks your distance, pace, stroke count and more.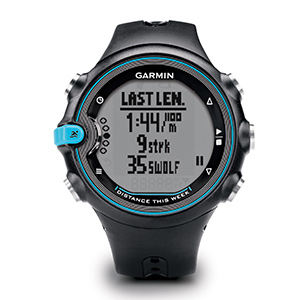 Strap It On and Dive In
Garmin Swim is ready to go right out of the box – just tell it the size of the pool you're swimming in and begin your workout. Its sleek profile allows it to cut right through the water, so it won't slow you down. And you can easily replace the battery yourself whenever needed (about once a year) so you're always ready to go.
Focus On Your Training
With Garmin Swim on your wrist, you can focus on your technique instead of what lap you're on. It automatically knows the stroke you're using and tracks your lengths, strokes, distance, pace and more. With a few button presses, you can also log drills or start timed sets without constantly monitoring the pool clock. It even calculates your SWOLF score to help you gauge your swimming efficiency, making it ideal for lap swimmers of all levels. The intuitive interface utilizes 6 exterior buttons, so each and every function can be accessed quickly and easily.
Stay Motivated
Slim and attractive enough to be worn as a daily watch, Garmin Swim serves as a personal reminder of your goals. To help you stay motivated, it displays your weekly accumulated distance under the time of day. Watch features include dual time zones and alarm.
Analyze and Share Workouts
After your workout, upload your swim data to Garmin Connect, our website for free online analysis. Here, you can view your detailed metrics and track your progress over time. You can also share your workout data with your coaches, workout buddies, or friends and family. Through the magic of ANT+™ wireless technology and the USB stick that comes with your Garmin Swim, your workout data automatically transfers to your computer when in range. Garmin Connect is Mac® and Windows® compatible.
¹Designed for lap pools of 17 m or more.
Physical & Performance
· Unit dimensions, WxHxL: 1.9" x .5" x 1.7" (4.8 x 1.3 x 4.4 cm).
· Weight: 1.4 oz (40.0 g).
· Display resolution, WxH: 55 x 31 pixels.
· Battery: CR2032 (user replaceable).
· Battery life: 1 year.
· Water resistant: yes (50m).
· GPS-enabled: no.
Features
· Length/lap counting: yes.
· Distance display: yes.
· Stroke counting: yes.
· Pace display: yes.
· Calories: yes.
· Heart rate: no.
· Swolf score: yes.
· Stroke type identification: yes.
· Quick timer workouts: yes.
· Configurable training pages: yes.
· Auto-detect rest times: yes.
· Works for drills: yes (user input required).
· Garmin Connect™ compatible (online community where you analyze, categorize and share data): yes.
· Automatic sync (automatically transfers data to your computer): yes.
· Data storage: yes (at least 30 workouts).
· Sport watch: yes.
· Additional: Watch functions include time of day (12/24h), dual time zone, calendar (day/date), daily alarm.

· For pools of minimum 17m.
What's in the Box:
· Garmin Swim.
· USB ANT Stick™.
· Manuals.
Other products related to Garmin Swim
Shipping Garmin Swim
Delivery feeFree delivery on orders over 200 pounds
Estimated deliveryDelivery 1 working day
Delivered at
Delivery is important to us. We will do our very best to deliver your order on time.
A card will be left if no one is home and the goods returned to the carrier's local depot to await your contact.
Please note that if you order more than one product, you might receive them on different days and/or with different transport companies; in this case too we do our very best to respect delivery time of all the products ordered.
It may be necessary for you to assist or move merchandise into your home, this is especially relevant if you live in a block of flats as carriers will only deliver to the ground floor entrance to the block.
If you cannot find the information you need or you have a question for us, please send an e-mail to customercare.eu@fitnessdigital.com. We are pleased to help you.
Delivery 1 working day
For all products stating "delivery: 1 working day" at fitnessdigital, normal delivery is the next working day. (occasionnaly 2 working days depending on the destination). Orders for 1 working day delivery must be placed by 14:30 from Monday to Friday. Orders are delivered on working days only from Monday to Friday.
Payment methods Garmin Swim
Cash On Delivery
You will receive the order at the registered address and the payment is made on delivery in cash. The cash on delivery option is only available for orders of 150 € or more.
Credit card
Pay securely with the following credit cards: VISA, VISA Electron, 4B, or Mastercard
or with an authenticated credit card (Verified by Visa / Mastercard SecureCode).
If you have a credit card that allows you to purchase in internet, and you have a code or password that allows you to pay on-line, this is a good and comfortbale way to pay for you. Payment on-line means that your order will be paid for right after checkout, and is therefore very fast. fitnessdigital.cz is 100% secure. We guarantee the safety of your credit card information. All credit card information is handled with the utmost security and will never be released to any other organisation under any circumstance.
PayPal
Your order will be sent upon receipt of the PayPal confirmation of payment of the full amount. What is PayPal?
fitnessdigital could sometimes ask a customer to use a certain payment methods ( for instance if the information given to us is not complete or seems to include false information). This could be the case when we are not able to properly identify who the customer is. We could sometimes ask for specially added documents as well, in order to prove payment
Delivery costs, delivery time and terms and conditions for free delivery are the same for all payment methods
Cash On Delivery payments can be made in the local currency (€).
***If the warranty is longer than two years, it will be shown in the product description.
Warranty information
FitnessDigital.com is an official distributor, therefore we can
WARRANT THAT:
The product is new
The product comes in its original packaging
As we are official distributors, we offer after sales service for all the products of this brand
The brand
Dr. Min Kao co-founded Garmin Corporation with Gary Burrell in October 1989 to integrate Global Positioning System (GPS) technology into navigation devices for multiple markets. Since its creation with 1,000 employees the company has grown and has now more than 9,200 associates in 35 offices worldwide. Garmin is a leading, worldwide provider of navigation and fitness products. They are committed to making superior products for automotive, aviation, marine, outdoor and sports that are an essential part of their customers? lives.
Garmin offers a wide range of products all over the world. Their user-friendly products are not only sought after for their compelling design, superior quality and best value, but they also have innovative features that enhance the lives of their customers. Garmin GPS solutions are a key part of today?s most useful, versatile and cost-efficient fleet monitoring solutions. With Garmin on your side, drivers and dispatchers work together to improve customer response and optimize fleet resources to achieve lower costs and higher profits.
User reviews about Garmin Swim
4.5 about 5
Ask the expert about Garmin Swim
In this section you can find answers from our users and experts
2 Questions 1 Answers
How big is the strap? Can it be altered for tiny wrists.Asked by Julie from Wirral Do you know the answer? Please let us know! 0 Answers
Will it still be water proof when you change the batteries yourself.Asked by Barbara from Kilkenny Do you know the answer? Please let us know! 1 Answers

Hello, The supplier does not guarantee this, so I guess it is better to have them changed at a watchmakers or send the product to Garmin to have them changed. especially in case of a swim watch. WinekeAnswered by FitnessDigital.com